Celebrate 2023 SVEC Hall of Fame inductee Dr. Bill Dally, Sr. VP, NVIDIA & Keynote. Applaud scholarship & Keeper of the Flame recipients.
Celebrate National Engineers Week in 2023. Join us!
One of the few Engineering Councils in the United States , the Silicon Valley Engineering Council (SVEC) was founded in 1989 as a not-for-profit educational 501(c)(3) organization by several engineering professional organizations. Its purpose has been to serve its member engineering and technical organizations in Silicon Valley and provide outreach to education and the community. After decades of hosting the banquet, SVEC proudly presents the 2023 Banquet. We would like to invite you to join us at our annual Engineers Week Banquet where Hall of Fame Inductees, Keeper of the Flame recipients, and Education (scholarship) Awards recipients are recognized.
The 2023 SVEC Engineers Week Banquet and Hall of Fame Awards Ceremony honoring Dr. Bill Dally, Chief Scientist and Senior Vice President of Research, NVIDIA Corporation will be held Friday, February 24, 2023, from 6:00 p.m. until 9:00 p.m. at the Computer History Museum, 1401 N. Shoreline Blvd., Mountain View, California.The banquet will also feature a distinguished Keynote Speech by Dr. Kang Shen, Director, Stanford Neurosciences Institute. The program concludes with Scholarship Awards to students for academic excellence, Discover-E, and Keeper of the Flame Awards.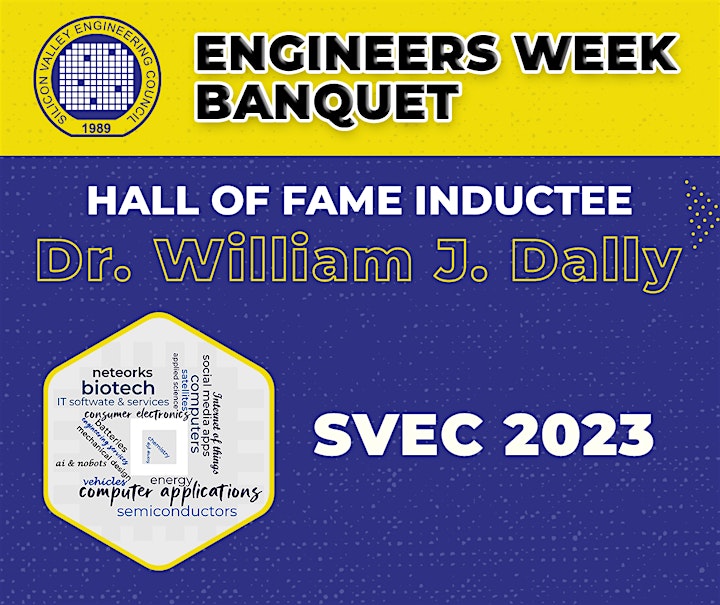 Program:
5:00 PM Reception and No-Host Bar
6:00PM Move to Dining Hall
6:30 PM SVEC President's Welcome
6:45 PM Dinner with Friends
7:30 PM Keynote
8:00 PM Hall of Fame Induction Ceremony
8:30 PM Keeper of the Flame Awards
8:45 PM Education/Scholarship Awards
9:00PM Program Close
KEYNOTE SPEAKER
Dr. Kang Shen
Director, Stanford Neurosciences Institute
REMEMBERING THE PAST, IMAGINING THE FUTURE
Dr. Kang Shen is a neuroscientist, an investigator of the Howard Hughes Medical Institute and is the Vincent V.C. Woo Director of Wu Tsai Neurosciences Institute at Stanford University. Dr. Shen and his team have studied neural circuits for years based on researching cell biological events during development of neural circuits. In this exciting talk, he will cover the latest developments in neuroscience in understanding the brain and the nervous system. This includes the highlight of research progress at the Stanford's neurosciences institute. He will discuss how brains process information in the context of spatial learning in memory, progress from brain-machine interfaces, and brain aging and resilience. These research areas are aimed to understand both how brain functions as a input-output device to encode information and generate response, and how brain cells are constructed by biological materials.
HALL OF FAME CEREMONY
Dr. William J. Dally
Chief Scientist and Sr. Vice President, NVIDIA Corporation
Dr. Bill Dally is Chief Scientist and Senior Vice President of Research at NVIDIA Corporation and an Adjunct Professor and former chair of Computer Science at Stanford University. Bill is currently working on developing hardware and software to accelerate demanding applications including machine learning, bioinformatics, and logical inference. He has a history of designing innovative and efficient experimental computing systems. He developed much of the technology used in high-performance computer networks – from the routing and flow control protocols down to the signaling and equalization methods used on the wire. His development of stream processing at Stanford led to GPU computing. GPUs now power the world's fastest supercomputers and enable the current revolution in AI. He co-founded STAC, AVICI Systems, Velio Communications, and Stream Processors. While at Bell Labs Bill contributed to the BELLMAC32 microprocessor and designed the MARS hardware accelerator. At Caltech he designed the MOSSIM Simulation Engine and the Torus Routing Chip which pioneered network routing and flow control technology. At the Massachusetts Institute of Technology his group built the J-Machine and the M-Machine, experimental parallel computer systems that were the first to demonstrate many communication and synchronization methods. At Stanford University his group developed the Imagine processor, which introduced the concepts of stream processing and partitioned register organizations, the Merrimac streaming supercomputer, which led to GPU computing, the ELM low-power processor, the Darwin bioinformatics accelerator, and the Satin SAT solving accelerator. Bill is a Member of the National Academy of Engineering, a Fellow of the IEEE, a Fellow of the ACM, and a Fellow of the American Academy of Arts and Sciences. He has received the ACM Eckert-Mauchly Award, the IEEE Seymour Cray Award, the ACM Maurice Wilkes award, the IEEE-CS Charles Babbage Award, and the IPSJ FUNAI Achievement Award. He is a member of President Biden's Council of Advisers on Science and Technology (PCAST). He currently leads projects on computer architecture, network architecture, circuit design, and programming systems. He has published over 250 papers in these areas, holds over 160 issued patents, and is an author of the textbooks: Digital Design: A Systems Approach, Digital Systems Engineering, and Principles and Practices of Interconnection Networks.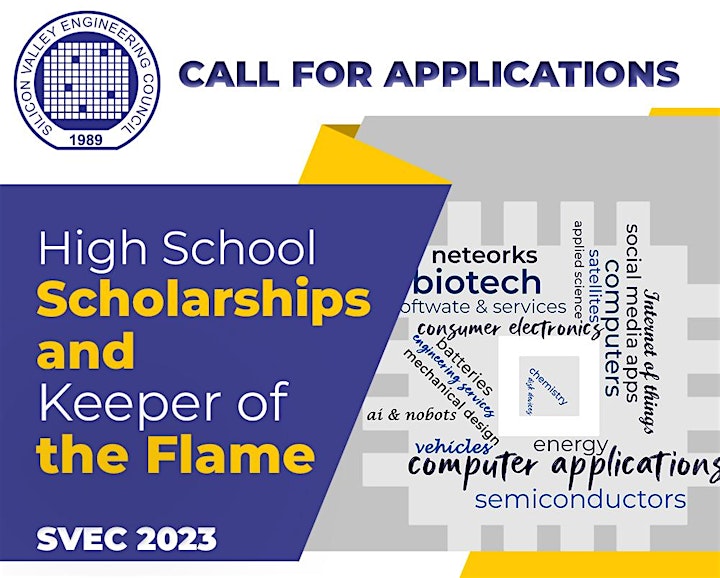 AWARDS
Scholarship Awards
The Silicon Valley Engineering Council Engineering Education awards recognize young engineering and technology students for their dedication, focus, and commitment to engineering. Engineering and Technology students graduating from high school are eligible to apply. Students may receive an SVEC Education award only once.More Info
Keeper of the Flame Award
During the 1990s, the content of K-12 mathematics and science courses came under attack by the education establishment. These "new math," "integrated math," "discovery math," etc. courses sought to protect students from difficulties in learning traditional mathematical skills. But it failed to provide students with the proper mathematical skills. Science education also suffered due to an "anti-science movement." This includes attacks on what scientists do, how they affect society and the scientific method of reaching objective truth. However, there are many teachers who still recognize that their job is to teach mathematics and science skills, and not to fall to the whims of administrators. These teachers display great integrity in defying the education establishment to ensure that their students actually learn mathematics and science.The SVEC Keeper of the Flame award recognizes and honors those heroes of middle and high school education who have distinguished themselves as Keepers of the Flame of knowledge by maintaining high standards of content in mathematics and science instruction in the face of significant challenges. This award is not intended just to recognize outstanding teaching ability.More Info
Discover-E
Discover "E" (E for engineering) is a nationwide student outreach program to expose elementary, junior and senior high school students to engineering and cultivate their interest in math, science, and engineering. This outreach program takes place annually in Silicon Valley from the beginning of National Engineers Week until the end of March. The Discover "E" program was initiated in 1990. Thousands of engineers throughout the United States participate in the program every year. The Discover "E" outreach effort in the South Bay area has been coordinated by the Silicon Valley Engineering Council since 1992.More Info
Questions? "EWeek@svec.org"
Sponsorship? "Sponsorship@svec.org"
Sponsor a table for your organization's attendees! Single tickets and table sponsor tickets are available here. For larger sponsorship opportunities, please email us!